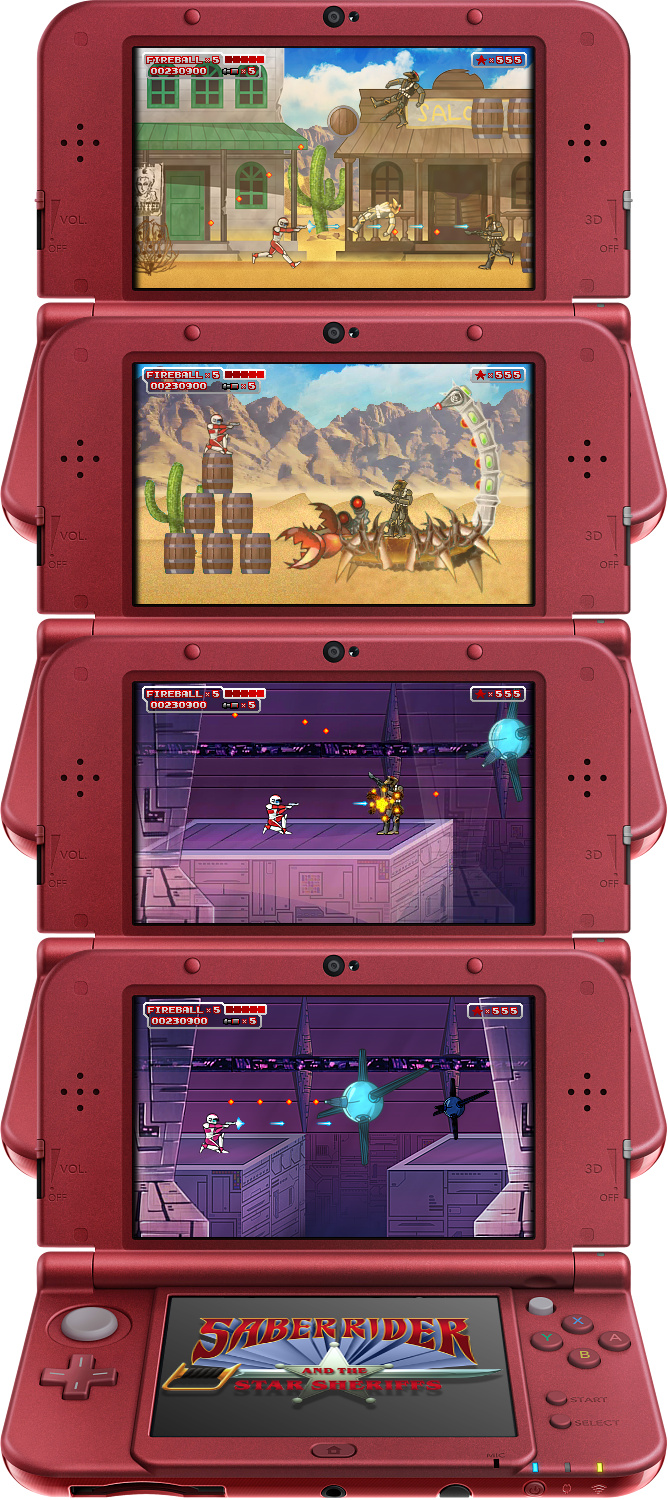 Dear Retro-Fans, As a huge fan of the old Contra Games (Europe: Super Probotector)
it was always my dream to create a game with that gameplay and feeling.
Now with Saber Rider and the Star Sheriffs I got the chance to make
my dream come true with an awesome IP from the '80s.

Bplus is happy to develop Saber Rider and the Star Sheriffs
for Nintendo 3DS and Steam with the following features:

- Contra-style run and gun shoot-'em-up gameplay
- Real 80's IP and real 80's feeling
- Retro-Style Graphics based on the original Anime and original Artworks
- 12 differently themed missions full of oldschool action
- 4 playable characters with different abilities and vehicles
- Intense Mecha battles to fight the big bosses
- Game Soundtrack based on Dale Schacker's Original Series Score made by Roland Koch
- Voices from the Series featuring Peter Cullen and others
- Mission briefings with original cutscenes from the Anime
- Bonus Games and Highscore lists - In-game music box
- Perfect playability with tight controls as you know it from Contra
- Tons of stuff to collect and many of secrets to discover
- Full New Nintendo 3DS support (+DualStick Control, +HeadTracking)

The main engine is already done and plays well.
To complete the game development Chris Strauss made a kickstarter website
with some neat rewards:
http://kck.st/1WWmbEH
We really need your help and all your retro-love to make this game happen.


Satoru Iwata influenced my life in a great way.
His death is very, very sad.

To honor Satoru Iwata, I decided to put my games on sale from now
to the end of August 2015in America. I reduced their prices as much as possible
so I wouldn't make a profit from them. I actually wanted to give them away for free,
but contracts and other legal barriers prevented me from doing so.
Any remaining cents that come from these sales
will be donated to a cancer foundation.

Bit Boy!! ARCADE 1.20 USD (7.99)
PUZZLEBOX setup 0.50 USD (2.99)

Any cent from now goes to a cancer foundation.

http://BitBoyARCADE.com
http://puzzlebox.bplus.at

EUROPE:
In Europe a similar sale will start on July 30,
BBA & PUZZLEBOX setup for 0.99 EUR each
but any cent from NOW goes to a cancer foundation.
I won't keep any cent.

Everyone has his own way to honor Mr. Iwata by writing, drawing, filming or playing
and that is my way to honor this great man.

Rest in Peace Satoru Iwata


Trailer for PuzzleBox setup


PuzzleBox setup the Upside-Down Puzzle in a Bottle is now available
on eShop for Nintendo 3DS for EUR/USD 2.99 - GBP 2.69



The second trailer for Bit Boy!! ARCADE is now available.




Get Bit Boy!! ARCADE for Nintendo 3DS
on Nintendo eShop for EUR/USD 7.99



http://www.BitBoyARCADE.com

http://facebook.com/BplusGames