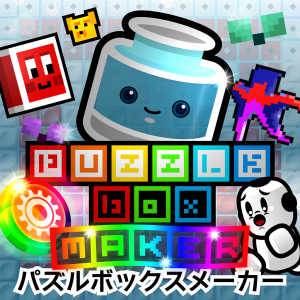 Puzzle Box Maker is all about painting, sharing and playing.
Create fantastic pixel art images as you want, share them with the world or just with friends, play mini games with or within your own created art.
Whatever your age, Puzzle Box Maker puts the joy and addictiveness of creativity in your hands, but with an added challenge. You can use all images as levels in other Modes with different action gameplay – it is a simple way to enjoy Pixel Art in different ways.
Play Puzzle Box Maker on Nintendo Switch™ at home, on the go, alone or together with friends. (1-4 players simultaneously depending on game mode)
Changes from Puzzle Box Maker V1 to its successor Puzzle Box Maker V2
❤ Solved minor gameplay bugs reported by fans
🧡 Polished every aspect of the game including a new art style
💛 New game icon
💙 Added video capture functionality
💚 Optimized controls
💜 New Level selection screen
🖤 Revised all graphics and new effects have been added
❤ Added a new Kubi Mode to Classic Levels
🧡 Added Summer+Winter theme to Kubi Mode
💛 Added new AI aspects for levels in Winter in Kubi Mode
💙 Added more and bigger monsters to Kubi Mode
💚 Destroyed Monsters release a black Shadow Plattchen in Kubi Mode
💜 Added some physics fun and other gimmicks to Kubi Mode
🖤 Pixo is now able to fly in 2 player mode in Kubi Mode
❤ Added Player Charts Levels
🧡 Added Player Level Ratings
💛 New and much greater Bomb Mode
💙 Added detailed game progress and coins information
💚 Added a Credits screen in the space design
💜 Added ability to move the pixel art around in Maker Mode
🖤 Online Gallery also supports Usernames with Unicode Chars
❤ Added Creator names next to the Level Code in game
Changes from Puzzle Box Maker V2.0.0 to Puzzle Box Maker V2.1.0
❤ Modified AI in Kubi Mode to make 99 Balloons level and others work
🧡 Added glittering effect to new Pixel Bombs
💛 Added particle effects to colliding pixel objects in Kubi Mode
💙 Cut objects into smaller pieces in Bomb Mode to avoid problems
💚 After GAME OVER you now get 100 Fun Coins instead of 20
💜 Added timeout when uploading in Maker to avoid Lost Level Codes
🖤 Added online check in Maker for upload at first save
❤ Added floating rooms with Monsters and Pixel Flies in Kubi Mode
🧡 Solved visibility issues on huge levels with 1 color in Kubi Mode
💛 Added block at start to avoid Bombs and Coins getting pushed down