'Puzzle Box setup' for Nintendo 3DS was a nice little gameplay experiment to prove the concept. The idea was born out of the level editor for the next Bit Boy!! game.
Now in Puzzle Box you create Pixel Arts or complete a pre-defined level setup
by dropping blocks into a bottle to complete it. Then you can use them as levels in other Modes with different action gameplay. It is a simple way to enjoy Pixel Art in different ways.
Puzzle Box is a relaxing puzzle coloring game for people who enjoy pixel arts and want to create levels in a creative way. The main Modes CLASSIC/COPYCAT are like color-by-numbers but with simple child friendly and very colorful pixel pictures.
– 100+ Levels
– More than 7 different Game Modes with different gameplay to enjoy Pixel Arts
– 2 levels of difficulty in all modes for relaxed or challenging gameplay
– Flexible Controls with Mouse+Wheel + Keyboard
– Create your own Pixel Arts
– Share your self made Levels with players around the world
– super easy to learn
– relaxing background music
– Combo Coins for special precision and speed
– animated painted backgrounds
– great for all ages, perfect for kids
More information about Game Modes and how you can interact with all the Pixel Arts will be revealed soon.
Thank you very much for your support.
Steam-GreenLight-Page for Puzzle Box Setup
Kubi will be playable in Puzzle Box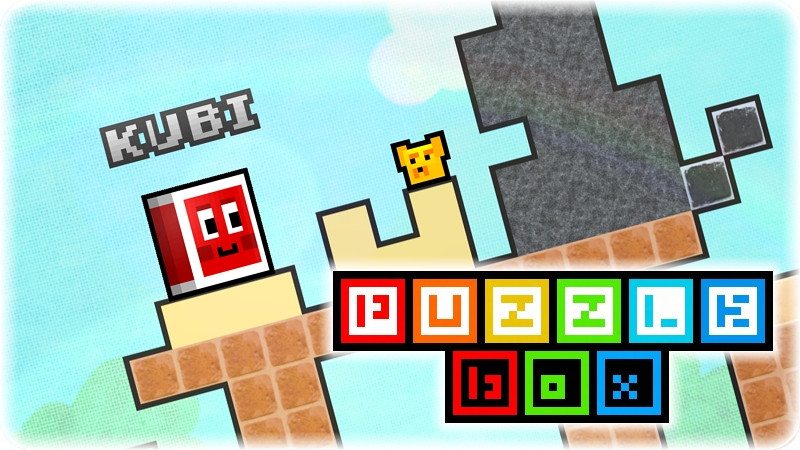 Thank you for all your support and the great feedback on Facebook, Twitter and Miiverse. Since many of you wish it and because I received many messages in this regard, I am particularly pleased to announce that the one and only true Bit Boy!! also called Kubi will be playable in Puzzle Box in "KUBI MODE". Our favorite time travel Pixel Hero is thereby avoiding Shadow monsters and fights his way to the exit while collecting colors and more.
Please continue to post your KUBITASTIC ideas, suggestions and wishes and tell me what you would like to see in Puzzle Box.
Links to Miiverse discussions:
Kubi in Puzzle Box
https://miiverse.nintendo.net/posts/AYMHAAACAAADVHk4phawOw
About Modes and Brainstorming
https://miiverse.nintendo.net/posts/AYMHAAACAAADVHk3Jn4ewg
[=)]